Open Day 2019
of École Polytechnique
Program :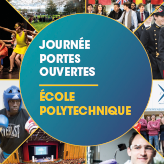 All registrations must be made online at :
https://form.polytechnique.fr/OpenDay2019/
October 12, 2019 From 10 am to 6:30 pm
École Polytechnique is organizing its first-ever Open Day on its campus on Saturday, October 12, 2019, from 10 a.m. to 6:30 p.m.
This is a unique opportunity to get a first-hand look at l'X from the inside and think ahead to a future of studying on our campus!
PROGRAM
Teaching and programs
Stands
There will be a space dedicated to the various programs available at École Polytechnique, where you can come and meet our course directors, academic teams, professors, students and doctoral researchers.
Reception
Stand 1: Projects for high school students
Stand 2: Bachelor
Stand 3: Ingénieur Polytechnicien Program
Stand 4: Masters of Science and Technology
Stand 5 : Summer School
Stand 6 : Executive Education
Stand 7 : Executive Master
Stand 8 : PhD Program - Master + Doctorat
Talks
Duration: 45 min (presentation and Q&A)
Bachelor Information Session – led by Claire Lenz, Dean of the Bachelor Program.
Ingénieur Polytechnicien Information Session – led by Pierre Dauchy, Dean of the Ingénieur Polytechnicien Program.
Masters of Science and Technology Information Session – led by Anne Chrétien, Head of the Master of Science and Technology Programs, and her team.
Executive Education: training for your entire career – led by Larbi Touahir, Director of Programs and Development, and Tatiana Defrance, Head of Executive Education.
Executive Master: info session – led by Opal Fritz-Nicholls, Deputy Director of the Executive Master Program, and Nicolas Mottis, Academic Director of the Executive Master Program.
PhD Program: Find out more – led by Benoît Deveaud, Vice-Provost for Research.
PhD Program: Further details – led by Adriana Tapus, Director of the Doctoral School.
Workshops
Duration: 1 hr - 1 hr 15 min
Professional, occupational and careers support.
Why and how should you use a MOOC to boost your skillset ?
Meet the students of the Bachelor Program.
Bachelor Program: admission procedures.
Ingénieur Polytechnicien Program: admission procedures.
Presentation of Group Science Projects by students of the Ingénieur Polytechnicien Program.
Presentation of Master's Programs in Energy Environment: Science, Technology & Management and Ecotechnologies for Sustainability & Environment Management
Presentation of Master's Programs in Internet of Things: Innovation & Management, Cybersecurity: Threats and Defenses, Artificial Intelligence & Advanced Visual Computing and Data Science For Business X-HEC
Presentation of Master's Programs in Economics, Data Analytics & Corporate Finance and Smart Cities & Urban Policy
Masters of Science and Technology and PhD Program: admission procedures.
The different steps of the PhD Program
Research with the science festival
Stands :
There will be around twenty stands with École Polytechnique research scientists, doctoral researchers and students on hand to introduce you to the latest scientific developments being made in our labs, as well as the challenges of contemporary science in fields such as astronomy, biology, chemistry, mathematics, meteorology, microscopy, physics, energy and ecology.
Feet on the ground; head in the clouds (LMD)
Mathematics and ecology (CMAP)
DNA: the secret code to life (BIOC)
In pursuit of 3D sound! (CMAP)
Origam'X
Chemistry: transforming matter (LCM, LSO)
Fab·Maths (CMAP)
200 years of solar electricity (IPVF and LPICM)
NMR, crystallography and energy (PMC)
Student Space Center – AstronautiX
Online quantum physics lab
The magic of mathematics (CMLS)
Plays of light (LULI)
Plasma in all its states (LPP)
Journey to infinity… and beyond! (LLR)
Laboratory visits
Duration: around 1 hr per theme
You will have the chance to visit around ten labs, where you will discover a day in the life of a researcher, and find out what goes on behind the scenes of our research work on topics as diverse as mathematics, chemistry, physics and astronomy.
CMAP: Mathematics, a window to the Universe
Immerse yourself in the world of mathematics to gain a deeper understanding of the nature of this discipline and its applications, ranging from pure research to industry.
LOB: Optical microscopy for life science
This laboratory draws on expertise in molecular biology, cell biology and optics to foster the emergence of new concepts and tools in understanding living organisms.
LPICM: Manufacturing new-generation electrical components
Located at the meeting point of materials science, chemistry and optics, LPICM develops newgeneration analytical techniques and electronic components for solar energy conversion and storage, large-area electronics, nanometric sensors and biomedical imaging.
LCM: Dive into the world of molecular chemistry
Enter the world of molecular chemistry. From the preparation of new metal compounds, and their use for effective reactions, to the detection of traces of pollutants in natural environments, professions and skills at LCM are highly diverse !
LULI: Into the world of lasers
From atoms to stars, LULI will introduce you to the world of optics, laboratory astrophysics and hot plasma physics.
LadHyX: The unique mechanics of white blood cells
Find out how white blood cells attack the cells they seek to destroy through a unique experiment that allows this phenomenon to be manipulated and observed under a microscope.
OMEGA: Microelectronics for particle physics
Discover how the electronic circuits of the largest detectors (such as those at CERN) are manufactured and tested in order to operate under very specific conditions. These circuits are also of interest to the space industry and medical imaging.
LMS: From 3D printing to structures
With the researchers at LMS, you will discover the newest techniques in 3D printing and the various properties of innovative materials and structures.
LLR Giants for probing matter
Discover particle physics and gigantic detectors, as well as the various professions in the field. The Leprince-Ringuet Laboratory conducts research into very-high-energy gamma-ray astronomy and the physics of particles and fundamental interactions.
Science talks
Come and chat with École Polytechnique researchers and students about their research work and the latest developments in the scientific world.
Duration: 30 minutes
Bertrand Rémy: "The mathematics behind wallpaper"
Symmetry is an essential concept in particle physics, chemistry (crystallography) and also in mathematics, where it is formalized through the concept of groups. We will discuss how studying the symmetries of wallpapers allows us to divide them into 17 categories!
Grégory Nocton: "Chemistry: an ally for sustainable development"
Chemists are tackling major environmental issues like the depletion of strategic resources and the reclamation of the most polluting types of waste. Find out how they can transform polluting molecules that contribute significantly to the greenhouse effect, such as CO2 and methane, into new chemical derivatives for use in the manufacture of everyday products.
Daniel Suchet: "Doing science with Star Wars"
What is the Force? How does a lightsaber work? Does the Emperor wear heels to avoid being electrocuted by his own lightning? We aim to push science out of its comfort zone by examining the scientific questions raised by this veritable institution of modern culture. How can we talk about science in a world of fiction? This talk uses the cover of science fiction as an opportunity to present real physical concepts and, more importantly, to highlight the essential steps that underpin a scientific approach, regardless of the context of its application.
Gérard Mourou: "Meet the 2018 Nobel laureate in Physics"
Gérard Mourou, Nobel laureate, and professor and member of the Haut-Collège of École Polytechnique, will present his research on lasers and his award-winning laser amplification technique, "Chirped Pulse Amplification" (CPA), developed just over 30 years ago with his co-laureate, Donna Strickland.
Tahar Amari: "The Sun and weather in space"
Discover how solar activities and particularly solar flares impact human activities.
Innovation
Talk
Duration: 45 min (presentation and Q&A)
"Entrepreneurship at École Polytechnique" by Serge Chanchole
Stands
Three start-ups that received support from the École Polytechnique X-Up Incubator present their products and services :
BEAUTY-MIX : BeautyMix, the innovative robot that lets you make your own cosmetics within a matter of minutes.

NEOLITHE : Néolithe transforms non-recyclable household waste into mineral aggregates that can be used in construction (particularly in road-building, with potential applications for concrete).

UBIQUE TECH : UBIQUE offers fun, home-based methods for rehabilitative therapy! Discover UBIQUE Kids and our motion sensors connected to our video game application via Bluetooth; a solution that is already proving very popular with occupational therapists.
Campus life
Campus Tour
12 visits: Grand Hall, classrooms and lecture theaters, Cour Vaneau, Magnan restaurant, Drahi X Center (Entrepreneurship), sports facilities (dojo, weights room, weapons room, gym and swimming pool), music rooms, standard bedroom, Kès (Student Council).
All registrations must be made online at :